Vizio 42″ Class Plasma HDTV with Built-in Tuner, VP422HDTV10A
If you've been waiting years for plasma televisions to become more affordable than they once were in years past, then you're in luck. Vizio has a stylish 42″ plasma television that can be yours at an amazingly affordable price of just under $700, and it's available online at Walmart. Even at such a low price, this HDTV still delivers the deep dark blacks as well as the bright and vibrant colors that you expect from a plasma television and achieves a 30,000:1 contrast ratio for crisp and clear images. As well as providing great picture quality at a price anyone can afford, the VP422HDTV10A also comes with a built-in digital tuner so you'll be ready for digital broadcast television in February of 2009 without the need of an additional set-up box. You'll be able to make great use of this plasma television with your other digital entertainment devices thanks to its 3 HDMI connections and 2 component inputs for full-on digital entertainment. The Vizio VP422HDTV10A is a great television bargain that you'll enjoy no matter what you watch. You no longer have to wait for plasma HDTVs to become an affordable luxury when you can buy the 42″ Vizio VP422HDTV10A for under $700 now.
JVC LT-42P789 42″ P-Series LCD HDTV with Teledock for iPod
If you love the convenience of carrying all of your multimedia on an iPod but appreciate the size and clarity of the picture that can only be found on a large HD television, then why not opt for an HDTV that lets you have the best of both worlds. The JVC P-Series of LCD televisions features the Teledock, that lets you easily connect and access your iPod to watch and listen to all of your media from the comfort of your living room sofa. Another benefit of the Teledock is that it will also charge your iPod while it's connected, so you'll be ready to grab it and go with a full charge when you leave the house. Although the Teledock is a prominent feature of this 42″ LCD TV, it's not the only feature that you'll appreciate as it also makes use of a USB port that will let you connect digital cameras so you can use the JVC LT-42P789 as large screen picture viewer. With features like these, you might just forget that this is still an LCD television that produces crisp on-screen images thanks to its 1080p resolution, 13000:1 dynamic-contrast ratio and fast 6.5-millisecond screen response that also makes this the perfect screen as video game monitor. JVC has engineered this television to work seamlessly with digital electronics so that you can take advantage of its 10-watt per channel stereo speaker system as well as its large screen. When features like quick access to multimedia from your iPod or digital camera through your television is important, then buy the JVC P-Series LT-42P789 42″ LCD HDTV to make it easy and hassle-free.
AOC Envision L42H761 42″ LCD HDTV
If you're looking for an LCD television but are worried that you'll never find one in your price range, then you'll be glad to know that there are plenty flat screen televisions that are very affordable. Even on a limited budget you won't have to settle for a small screen, because you can buy a 42″ widescreen television for under $1000. The Envision L42H761 is a full HD capable television that delivers 1080p resolution and provides you with wide angle viewing, so you'll enjoy watching everything from just about any position in your room. This AOC LCD television has a sleek design with advanced connectivity features that will fit in perfectly with any existing home theater system in both style and capability. As television broadcasts and will be going digital next year, you'll be ready for the switch as this 42″ AOC Envision comes with a built-in digital tuner. With the L42H761, you'll also be able to connect your computer, game consoles, digital cameras as well as DVD and Blu-ray disc players that will allow for you to make better use of this digital television than could ever imagine with your old TV set. If it sounds like you're getting a lot of high technology in a thin television that measures only a few inches deep at an exceptionally low price, you're right and you won't find this deal in your local store. So if you've been waiting to get your hands on a new flat screen television for under $1000, then you'll want to buy the AOC Envision L42H761 42″ LCD HDTV and see how stunning television can be when you're watching in HD.
Vizio 42″ LCD HDTV with Digital Tuner, VW42LHDTV10A
Vizio has come out of nowhere to be one of the biggest names in flat screen tvs, and it's no wonder when you can get an amazing LCD television with a clear picture at prices that just keep going lower. This 42″ HDTV has everything you could need to enjoy all the best aspects of digital television including stereo sound provided by the two 20-watt stereo amplified speakers that produce virtual surround to fill your room with digital audio. With the VW42LHDTV10A you'll be able to connect all of your digital gadgets including computers and camcorders. When you buy the Vizio VW42LHDTV10A, you'll get a great LCD HDTV at such a low price that will leave you with plenty of money left for the other things in your life.
Sceptre 42 720p LCD HDTV
There is a cure for standard television viewing, but it requires getting a large high-definition LCD tv so you can really enjoy everything you watch. If you're ready for great picture at an even better price, then you'll want to buy this Sceptre 42″ LCD television. This affordable HDTV provides more than just great television viewing, as the X42gv-Komodo is capable of being connected to all of your digital gadgets, and can also double as large computer monitor. With a 2000:1 contrast ratio and an ultra fast 6ms response time, you'll be glad you bought the Sceptre 42 720p LCD HDTV
Philips 42PFP5332D/37 Plasma HDTV
For a superior quality plasma television you can always expect Philips to include everything you that you could want and more than you expect when it comes style and picture quality. The 42PFP5332D/37 has a USB port for connecting your camera, portable media player or even your computer for sharing audio, video and still pictures. This 42″ plasma has built-in analog and digital tuners, so you can receive both signals without worrying about next year's television switch to digital. You'll be viewing the ultimate combination of sharpness, color and smooth motion in great detail thanks to Pixel Plus 3 HD, and it comes with Virtual Dolby Surround so you'll hear cinema-style sound without the need for rear speakers. The Philips 42PFP5332D/37 Plasma HDTV
offers all of this and more with plug & play installation to add a new component, so you'll have more time to watch tv without any technical problems.

Soon enough we'll all need to have a digital tuner just to watch TV, so you might as well upgrade with a new television that's digital ready. You don't have to wait for digital boradcasts before you get that new TV, and you don't have to spend a lot of money either. Experience high definition programming when you buy the Sanyo 42″ LCD HDTV with Digital Tuner, DP42647
that ensures a deep and crisp picture and all for under $1000.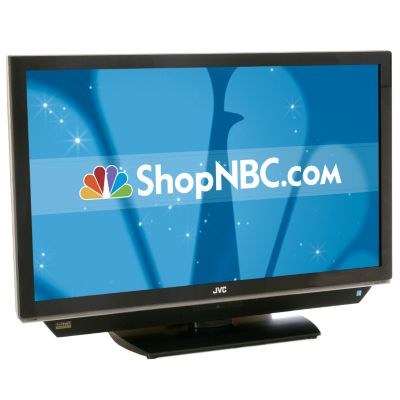 With the prices of flat screen televisions continually dropping, you can easily afford this JVC TV. If you're really wanting to see and truly enjoy your favorite shows and movies, the JVC 42″ 1080p LCD HDTV w/ $100 Rebate
makes it that much more affordable. This television allows for seamless connection of Blu-ray Disc and HD-DVD players so you won't have to worry about DVD compatability. The connectivity options of this JVC are unparalleled with a USB photo viewer and two component video inputs, you'll never be out of the technology loop.