Boy, were we jazzed. CEDIA brought the announcement that JVC was releasing the first Blu-Ray recorders being launched into US stores. Our buzz ended as the announcement continued…
These models cannot record HDTV over the air/cable/satellite content. Take your time and read that again. It's ridiculous, and reduce interest in these units by quite a long ways.
Each recorder comes equipped with a 250GB or 500GB hard drive and can record either standard or hi-def content from SD Cards and digital camcorders via USB or Firewire interface. We assume the target audience are video editors and related professionals, but its sad that they missed a grand opportunity to move BR into the mass marketplace with this awful omission.
And the worse part: These aren't cheap, even for the lack of its most useful potential feature. The SR-HD1250 is priced at $1,995 and the SR-HD1500 will go for $2,550.
It seems LED HDTV technology is starting to catch on with TV makers; four companies have now announced plans to release their own models in the next 3 months or so.
The companies: Sharp, LG, Sony and JVC, all strong market players in one area or another, and all vieing for a piece of a (relatively) small pie at the moment. Prices are pretty high right now (mostly 2-3K range) for mainstream consumption, but its only a matter of time, like any other technology.
More about the models themselves in this article from ZDNET, including the 32″ Sharp LED model coming for only $1,099.
Let's get right to it, two great deals:
Newegg.com – A very nice deal on a name brand TV that's appearing on many home shopping channels now: the Honeywell Altura ML MTHWJCT42B3AB 42" 1080p LCD HDTV for $647.99 – $50 discount right now = $637.99 with free shipping as well. Amazing price on a 42 incher.
JandR.com – Great deal on a bonus type TV: the JVC LT42P300 42" 1080P LCD HDTV With built-in Teledock (for charging iPods and MP3 players) for $849.99 – with free shipping. Astounding!
Take care and see you back here soon for more unheard of deals.
Back at CES time, JVC seemed quite proud to show off the rainbow of its LT-42WX70 back at CES, with its huge color palette and ultra-bright screen. Graphics professionals will more than likely flock to this new model.
Colors seems to be the area that JVC is targeting with their recent models, along with bringing panel brightness to new levels of eye-searing joy.
Titled the Xiview LT-42WX7, its a 42″ flat panel with built-in 120Hz dejutter stuff and 1080p panel which, as we said, targets image junkies and those where color clarity is vitally important.
This display can show an amazing 96%of the Adobe RGB color spectrum, making it great for pro level image editing. All you need is $2,399.95 to get on the big color train.
The 3D revolution is just around the bend. So the 3D backers endlessly claim, anyway. Well, JVC might be inclined to agree, as they have announced plans for a 46″ 3D LCD HDTV with full 3D support.
The TV, code-named the GD-463D10 will come with full native 1,920 x 1080 res, a 2,000:1 contrast ratio, and even a pair of polarized glasses when it ships in Japan in mid-May or so to get you ready for that 3D TV world, should it suddenly arrive.
The only possible pebble in the shoe, so to speak? Oh, perhaps that ¥700,000 ($6,978 USD) price, which is downright painful because that 3D revolution hasn't yet arrived, and who knows if it will really. We're not projecting this to be a huge seller, but hey, you're ready if all that 3D material should spring forth.
More and more companies seem to be embracing the Blu-Ray platform (with the sort of understandable exception of Toshiba, who lost the media war with their HD DVD), and that includes built-in BR too. And JVC has jumped into the game with their new LCD model unveiled at CES 2009: the 42-inch LT-42B300 with a built-in BR player.
The new model includes Full HD 1080p, integrated ATSC-QAM tuner, dual 10-watt speakers (pretty standard), three HDMI inputs and the aforementioned Blu-ray player too. No pricing details were announced, and the release window was described as mid-June or so. We can't wait until BR is standard on most TV's, as it really takes advantage of the 1080p resolution so much better than standard DVD.
A note to go along with this tidbit: It was rumored Sharp would be the first to release a model with the BR included, but nothing announced so far, leading us to believe it got pushed back for some reason. Between Haier and JVC, there's definitely going to be some new kids on the block this coming year that will give existing big boys Sony and LG a run for their money.
JVC is definitely taking a cue from some of the other companies at CES, and announcing some very interesting HDTV ideas and designs this year. This includes an ultra-thin LCD prototype that measures a super-skinny 7mm (.28 inch, only Samsung's is smaller by a fraction) cabinet size.
No prices or availability window was announced, but it looks pretty good in the picture seen here.
In related news, JVC also displayed a 42″ model specifically geared towards graphics and photo professionals, and features multiple color range choices, including Adobe RGB, sRGB and Rec 709 HDTV. No prices or release windows for that one either.
At last year's CES show, JVC introduced their TeleDock line of LCD HDTVs, featuring a front flip-down door that boasts an integrated iPod plugin and dock. At this year's show, the TeleDock gig has been expanded with additional models covering sizes from 32″ to 46″, with the top two sizes including 120hz for the first time in a JVC TV.
Looks like it might be a very interesting race in the HDTV world between Samsung, LG and now JVC.
Talk about a cool TV and a good deal – a JVC 32″ HDTV with Teledock, which is a built-in iPod dock that allows charging and playback on your TV of your iPod music, with on-screen menus. Great gift for the gadgety person in your life, and BuyDig.com has it for $499 with free shipping.
BuyDig.com has excellent ratings on BizRate and they've been around awhile, so no worries about that either.
Typical feature set: 720p (fine for a TV this size), 1200:1 contrast ratio, 2 HDMI connections, and 178 degree viewing angle. The built-in iPod dock is a definite highlight and makes this a perfect gift for the iPod/music fan.
You can grab the TV here. Sale ends soon (no listed expiration) so its subject to end any time.
JVC LT-42P789 42″ P-Series LCD HDTV with Teledock for iPod
If you love the convenience of carrying all of your multimedia on an iPod but appreciate the size and clarity of the picture that can only be found on a large HD television, then why not opt for an HDTV that lets you have the best of both worlds. The JVC P-Series of LCD televisions features the Teledock, that lets you easily connect and access your iPod to watch and listen to all of your media from the comfort of your living room sofa. Another benefit of the Teledock is that it will also charge your iPod while it's connected, so you'll be ready to grab it and go with a full charge when you leave the house. Although the Teledock is a prominent feature of this 42″ LCD TV, it's not the only feature that you'll appreciate as it also makes use of a USB port that will let you connect digital cameras so you can use the JVC LT-42P789 as large screen picture viewer. With features like these, you might just forget that this is still an LCD television that produces crisp on-screen images thanks to its 1080p resolution, 13000:1 dynamic-contrast ratio and fast 6.5-millisecond screen response that also makes this the perfect screen as video game monitor. JVC has engineered this television to work seamlessly with digital electronics so that you can take advantage of its 10-watt per channel stereo speaker system as well as its large screen. When features like quick access to multimedia from your iPod or digital camera through your television is important, then buy the JVC P-Series LT-42P789 42″ LCD HDTV to make it easy and hassle-free.
JVC LT37X688 LCD Full-HDTV
A full-HD JVC television can change your perception of what TV should be like, and it doesn't have to be expensive. The LT37X688 37 inch LCD TV offers more than just 1080p resolution, because it also has a built-in digital ATSC Tuner, a new USB Photo Viewer, and 2 Component Video Inputs, so this television is keeping up with today's technology. With a 176 degree viewing angle, there's never a bad seat when you're watching the JVC LT37X688 LCD Full-HDTV
.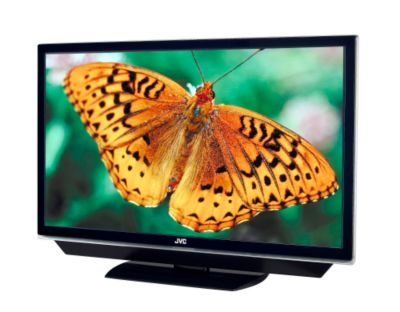 If you're looking for a television that will fit your digital lifestyle and tastes both now and in the future, then this
JVC LCD HDTV
is what you're looking for. JVC makes some of the best looking and performing LCD televisions available, and you'll understand once you're viewing your very own
JVC LT47X788 47 1080p LCD HDTV
with 178 degree viewing angle and Flicker-Free resolution. This TV has everything you expect from a high-end flatscreen and it won't disappoint you, but it will impress you and all of your friends especially showing off the USB photo viewer as well as the great picture and sound.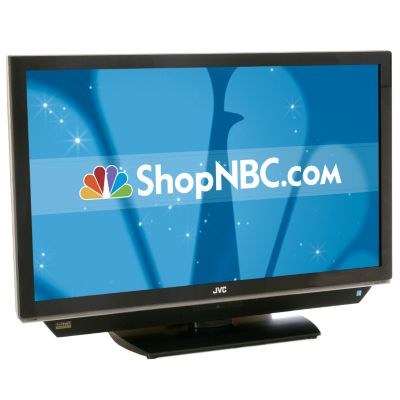 With the prices of flat screen televisions continually dropping, you can easily afford this JVC TV. If you're really wanting to see and truly enjoy your favorite shows and movies, the JVC 42″ 1080p LCD HDTV w/ $100 Rebate
makes it that much more affordable. This television allows for seamless connection of Blu-ray Disc and HD-DVD players so you won't have to worry about DVD compatability. The connectivity options of this JVC are unparalleled with a USB photo viewer and two component video inputs, you'll never be out of the technology loop.